What is LinkedIn worth to your business, and what are the LinkedIn statistics that will help you perfect your marketing strategy on the platform? ?
LinkedIn is unique among the major social media players because it has a very specific user base. That is, educated and affluent people who are already in a professional headspace and actively looking for solutions.
If your brand is yearning for a calm, focused alternative to the oversaturation and vitriol of 2019's social media landscape, then LinkedIn gets even more attractive.
Hootsuite CEO Ryan Holmes singled out the platform's continued rise as one of his top trends for 2019. Here, we back that up with all the LinkedIn stats you need to master this dark horse.
Bonus: Download a free guide to discover four time-saving tools to help you grow your LinkedIn network faster. Includes one tool that lets you schedule a week's worth of LinkedIn updates in just three minutes.
LinkedIn user statistics
That's an impressive growth rate. From 467 million users in Q3 2016 to 590 million by the end of 2018. Or 123 million users in two years.
Compare that to Twitter, which only gained 9 million users in the same period. (From 317 to 326 million users between Q3 2016 and Q3 2018). Meanwhile, Facebook's stagnating user growth has been noteworthy for a while.
Even before 2016, LinkedIn's growth was reliable:
Source: Statista
America has the highest number of LinkedIn users.
The remaining 70 percent of users live in 200 other countries and territories around the world. And users can engage the platform in 24 different languages.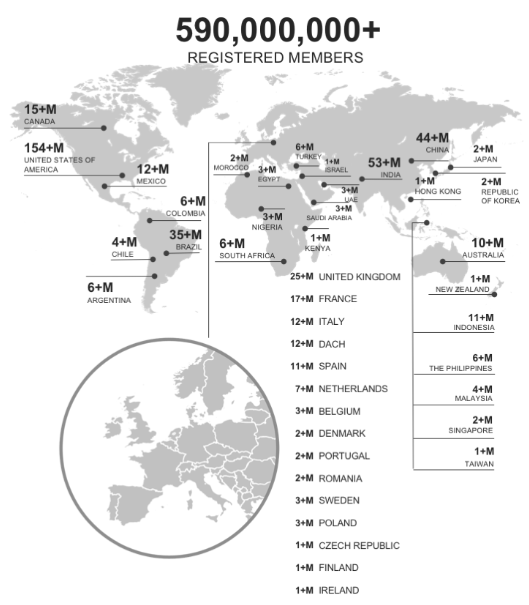 Source: LinkedIn
Pew Research Center has concluded that the platform is most popular with educated, urban, professional Americans from households earning more than $75,000 per year.
It attracts men and women equally. And it is predictably most popular with the 25-49 crowd. Though a quarter of 18- to 24-year-olds and 50- to 64-year-olds use it, too.
If you'd like to compare that to the other major platforms, here's the full data set: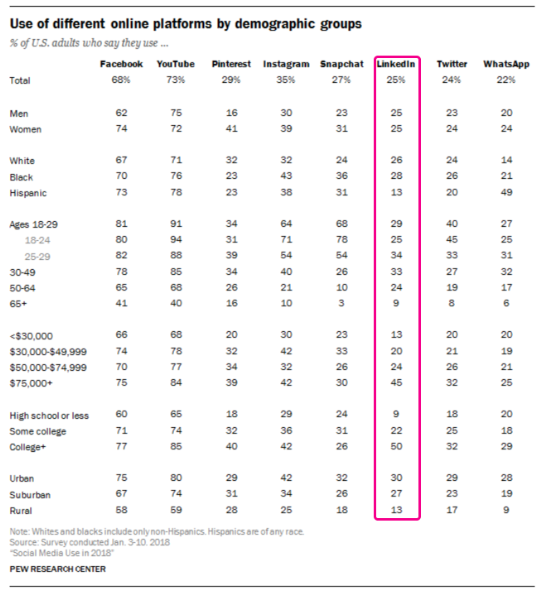 Source: Pew Research
Upper management, a.k.a. directors, vice presidents and citizens of the C-suite.
There's a reason that LinkedIn is the top platform for B2B lead-generation (more on that later). Decision-makers congregate here.
While the platform's official infographic is 90 million users out of date, we might guess that the populations of MBA graduates, influencers and mass affluent have also grown around 18 percent: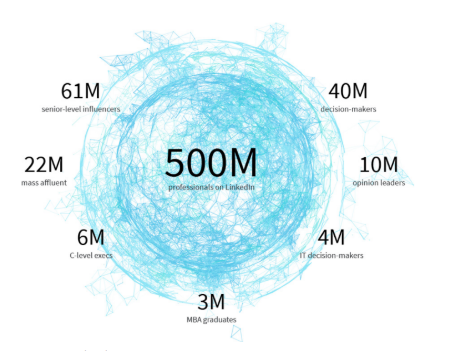 Source: LinkedIn
LinkedIn usage statistics
This percentage is actually low when compared to Facebook (88 percent of activity is on mobile) or YouTube (70 percent).
Can we infer that more LinkedIn users are accessing the platform while at the office? Maybe.
Or that they're more focused and less likely to be multitasking? Also maybe.
That said, this percentage is still large enough you'll want to ensure your content—links, forms, and especially video—is optimized for mobile.
LinkedIn's usefulness as a recruiting tool is still primary. For example, 30,000 companies in America use LinkedIn to recruit.
This number is important for marketers as well as HR managers. The more LinkedIn users show up to browse job listings (people are eternally on the hunt for a dog-friendly office), the more users are checking their InMail and browsing their news feeds for solutions.
While Facebook bumps up posts by "friends, family and community" to the exclusion of all else, LinkedIn has been building a platform that prioritizes business voices.
Brands who publish research, news items, and fresh ideas on LinkedIn will find not only a receptive audience, but a supportive algorithm.
As LinkedIn expands beyond recruitment, many brands are using it to grow relationships and reputation, court leads, and stay informed.
If you're already investing in content, integrating it into your overall LinkedIn marketing strategy is a no-brainer.
Source: Sophisticated Marketer's Guide to LinkedIn
LinkedIn's algorithm prioritizes high-quality posts. So, yes, multimedia-rich posts are more likely to perform well.
Video posts also earn three times the engagement of text-only posts.
LinkedIn introduced native video in 2017, offering a luxurious ten-minute maximum. A year later, LinkedIn video ads were hitting 30 percent view-through rates. (This number gets more impressive when you remember that video ads can run as long as thirty minutes.)
Bonus: Download a free guide to discover four time-saving tools to help you grow your LinkedIn network faster. Includes one tool that lets you schedule a week's worth of LinkedIn updates in just three minutes.
Check out our complete guide to LinkedIn video.
When it comes to content, LinkedIn offers quality over quantity.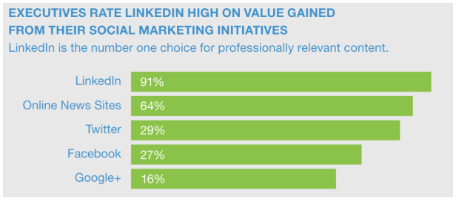 Source: Sophisticated Marketer's Guide to LinkedIn
LinkedIn for business statistics
LinkedIn users are an educated audience who are way more likely to be experts in your field than, say, your Facebook audience.
Ensure your company is representing its best self to potential employees, clients, and partners (not to mention competitors) by optimizing your company page. It'll make a difference. Just adding a logo will increase your profile visits by six times.
This number is reflective of LinkedIn users' general mindset. It's no surprise that they're more likely to click through to your official website or professional blog, since they're actively looking for resources.
Source: Sophisticated Marketer's Guide to LinkedIn
When it comes to lead generation, LinkedIn has been the undisputed boss for years.
Source: Sophisticated Marketer's Guide to LinkedIn
Ease of use is an important factor, as is credibility. Your leads can research you with just a few clicks, and see your endorsements and network.
Meanwhile, LinkedIn's search function has impressive granularity when it comes to narrowing down your desired audience. It can help you whether you're trying to get a hold of digital marketing managers or railroad CEOs.
LinkedIn says that 10 to 25 percent of InMail receives a response. As a communications channel, InMail is incredibly undersaturated. People who receive hundreds of emails and text messages a day might only receive two or three InMails.
You can also buy "sponsored" InMails to target leads. LinkedIn promises each person will only receive one sponsored message every 45 days, meaning your message is very likely to get noticed.
According to a survey of B2B marketers who buy paid ads on social media, Facebook and LinkedIn are tied as the top-performing platforms.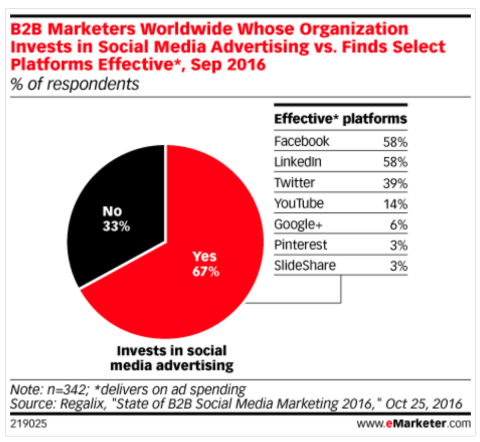 Source: eMarketer
But LinkedIn works for B2C brands, too. For example, Volvo Canada buys ads that target users based on job seniority. According to their ad agency: "It gives us a way to get an indicator of income, which is a great advantage."
If you're looking to get started with LinkedIn ads, check out our complete guide.
Save time managing your brand's LinkedIn presence with Hootsuite. Schedule updates, target posts, engage with followers, and measure the impact of your efforts. Try it free today.
The post 16 LinkedIn Statistics That Matter to Marketers in 2019 appeared first on Hootsuite Social Media Management.
Article syndicated from HootSuite https://blog.hootsuite.com/linkedin-statistics-business/